Get your statements secure, fast and free!

Our FREE electronic statements are convenient and easy to use. Each month you will receive an email from the credit union letting you know when your eStatements are ready for online viewing. Follow the steps below to see how simple our eStatements are to use.
Step 1: Login
The first thing that you will see is the eStatement Log On page. Here you will enter your credit union account number and your password.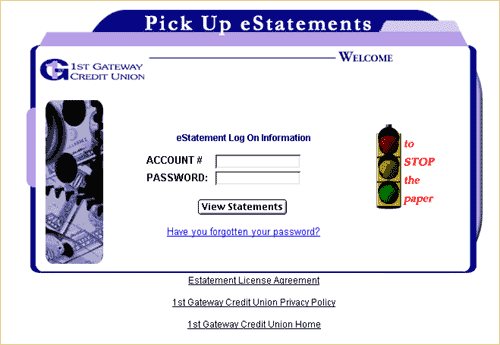 Step 2: Change Password
The first time you login, you will be required to change your password to an eight to twenty character password of your choice. You can also change your password at any time.
Step 3: Password Update
After you update your password, you will receive a confirmation that your password has been updated. You will use the new password the next time you log in.
Step 4: Available Statements
Once you have logged in, a screen will display a list of the available statements and notices that you can view. Click on the VIEW icon to the left of each item to view.
Step 5: Statement
After you have clicked on the VIEW icon, your statement will appear on the screen. You are then able to view it online, save it to a text file, or print it.